August 29,2023 | Claude Onkundi

Contributors:
Rita Okuthe, Executive Board Chair, M-TIBA
Kwasi Boahene, Director – Health Systems, PharmAccess Foundation
---
Kenya's goal of achieving universal health coverage relies on improving primary healthcare and setting up coordinated networks of healthcare providers. This goal will greatly benefit the use of new and creative digital solutions on a large scale. These ideas were central at the 2023 Devolution Conference's health session. The focus was on how counties and healthcare players adopt digital innovations to make healthcare services better and improve overall health delivery across the country's decentralized healthcare system.
First, we must appreciate that over the past two decades, Kenya has undergone a remarkable mobile revolution that has transformed life. With M-PESA, there was an instant shift to an era of unprecedented connectivity and convenience. One key and pioneering innovation that was born from this transition was the M-PESA mobile money, the success of this revolutionary concept disrupted traditional banking systems and paved the way for enhanced financial inclusion. Much like M-PESA revolutionized financial services, Kenya's healthcare landscape is now witnessing a comparable transformation through technology.
Today, M-TIBA is aiming to enable access to quality healthcare to all Kenyans, the same way M-PESA did for the financial sector. This has been the cornerstone of M-TIBA in the mission to achieve health inclusion for every Kenyan, mirroring M-PESA's monumental success in the fintech space. The combination of healthcare and financial information has translated into an industry shift, and through making this directly accessible through the mobile phone for individuals, healthcare access is more transparent and simpler.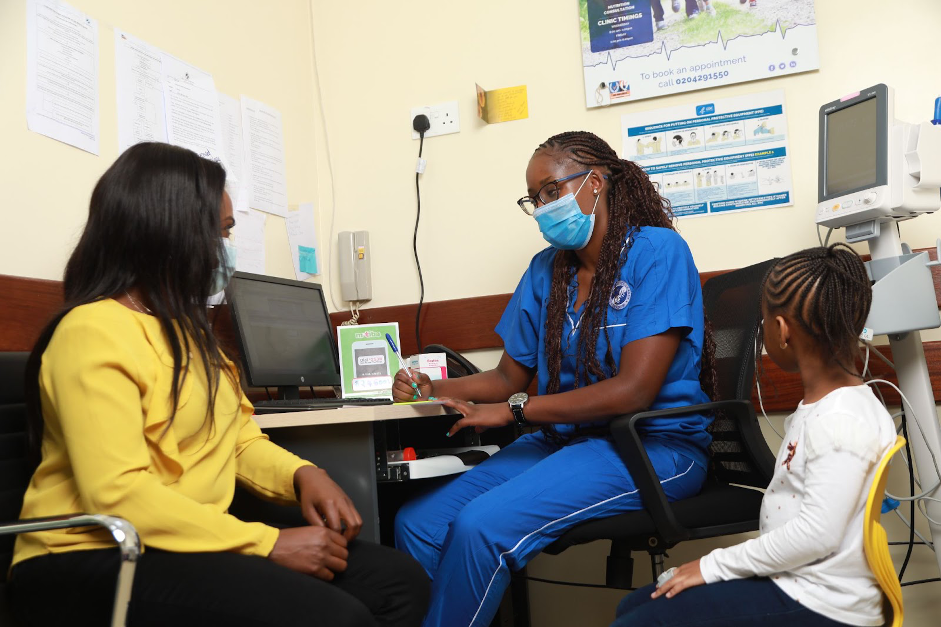 [A patient consulting a healthcare provider.]
Whenever a patient seeks medical attention at a clinic connected to the M-TIBA platform, the system swiftly identifies the required treatment prescribed by the medical practitioner and accurately calculates the attendant's costs for the medical services required. This streamlined automation not only leads to efficient healthcare delivery but also ensures prompt generation of medical claims, simplifying the billing process for both patients and healthcare providers in a more transparent manner.
Reflecting on the Marwa Program, a flagship UHC initiative by the Kisumu County Government and supported by the PharmAccess foundation, it becomes evident how we can achieve immense success in expanding equitable healthcare coverage. This program extended healthcare coverage to 122,000 individuals from 44,000 low-income households through the National Health Insurance Fund (NHIF). Leveraging the M-TIBA platform, enrollment and management of this large-scale program was facilitated digitally, enabling members to conveniently access affordable healthcare in Kisumu. The Marwa program serves as an example of the impact public and private sectors can have in enabling wider healthcare access.
Speaking on the health panel discussion, Rita Okuthe, Executive Board Chair at M-TIBA, highlighted M-TIBA's approach to creating transparency in healthcare delivery "The introduction of technology into our health facilities plays a pivotal role in guaranteeing transparency, accessibility, and efficiency. Take the scenario of walking into a hospital with a diagnosis of Malaria – a common ailment. In a digitally enabled system, the treatment follows a standardized protocol based on the severity of the condition, with predictable pricing."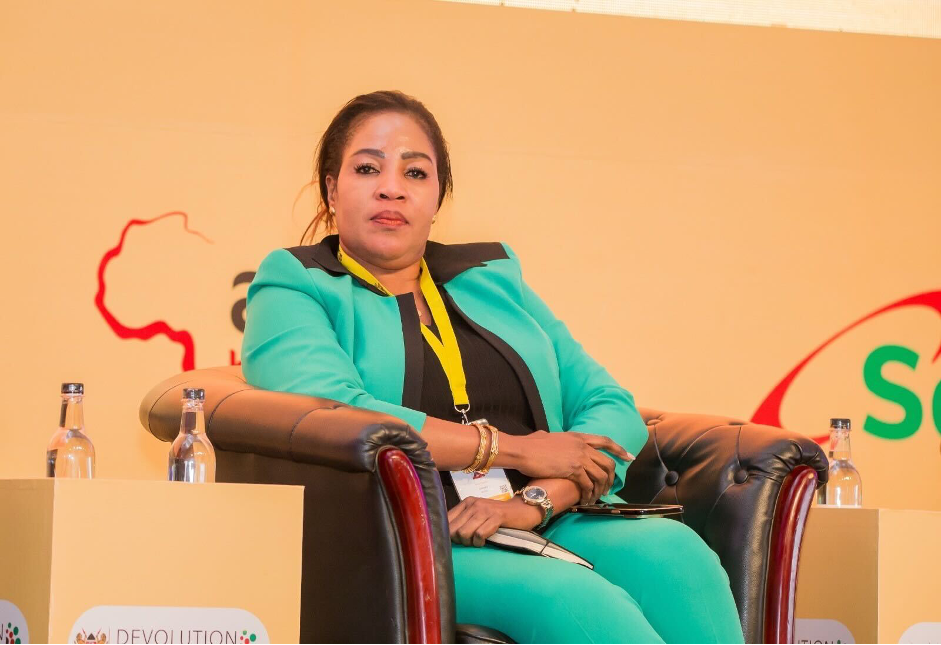 [Rita Okuthe, M-TIBA Executive Board Chair speaking at the 2023 Devolution Conference.]
"However, in the absence of digitalization, a notable gap emerges, there is a risk in pricing and quality of care delivery disparities, underscoring the crucial role technology plays in ensuring equitable healthcare. This discrepancy not only affects patient experiences across hospitals but also disrupts administrative management, especially from an accounting perspective. The absence of a digitalized record system complicates the understanding of medication distribution and usage, where clarity is essential."
Also speaking in the same forum, Kwasi Boahene, Director of Health Systems at PharmAccess Foundation pointed out "Technology's capabilities will enable the identification of patterns as patients receive treatment in the different hospital levels. Such predictive potential becomes invaluable in anticipating and managing potential health crises or pandemics. By proactively addressing anomalies such as sudden spikes in patient numbers, chaotic responses during pandemic declarations can be averted. Beyond this, a proactive approach alleviates strain on overburdened referral hospitals, such as those grappling with congestion in the casualty department due to routine cases like basic malaria treatment. By shifting such cases to lower-level facilities, referral hospitals can better cater to critical cases requiring specialized care."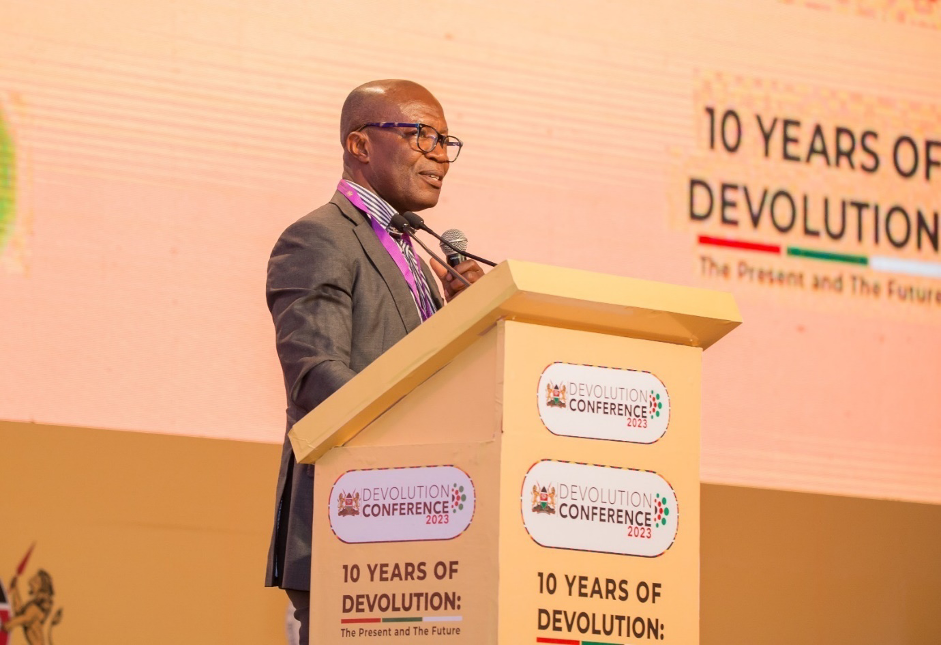 [Kwasi Boahene, PharmAccess Director of Health Systems speaking at the 2023 Devolution Conference.]
Through digitalization, the treatment process becomes more standardized and transparent. This paradigm shift empowers community health volunteers and aids in predicting potential health crises. Furthermore, technology's utilization aids in alleviating congestion in referral hospitals by directing patients to appropriate levels of care, and optimally allocating resources.
M-TIBA's platform connects individual members, healthcare providers, and payers, enabling a seamless end-to-end healthcare journey. It simplifies care provision by facilitating provider-patient interactions and allowing for seamless access, integration, and processing of medical information. This user-friendly interface streamlines the claim submission process, enhancing provider engagement. Medical claims are evaluated either by the M-TIBA team on behalf of the government or by private insurers, with payments typically processed within 48 hours, ensuring a swift and transparent reimbursement cycle.
In an era where the digitization of healthcare continues to gain momentum, expanding its reach and impact, sustainability emerges as a critical consideration. While healthcare is an undeniable right for all, ensuring the nationwide adoption of digitization is pivotal for long-term success. Transparent systems stimulate investments from donors and the public sector, benefiting the entire healthcare ecosystem.
Kenya's journey with digital innovations in healthcare exemplifies how these innovations can reshape healthcare delivery and accessibility. Ultimately, these advancements hold the potential to pave the way for equitable healthcare access for every Kenyan.