Ensuring peace of mind throughout your journey
In partnership with AAR insurance Kenya, M-TIBA distributes an emergency accident medical cover for passengers who are traveling in long-distance public service vehicles.
Currently, we have partnered with 4NTE Sacco and 2NK Sacco to provide this accident cover along the following direct routes: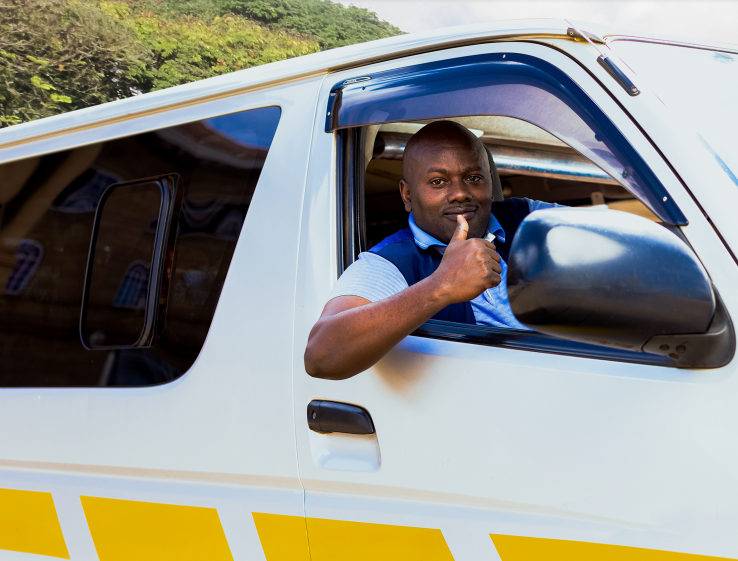 Get protected through your journey
In case of an accident of the vehicle, passengers with the M-TIBA cover are covered for medical treatment that is directly resulting from the vehicle accident
*This cover is only valid for the duration of the trip for which the ticket was bought.
Kinga Afya has partnered with healthcare facilities across the country to ensure the provision of timely and quality emergency care. Search for a healthcare provider by name, county, sub-county, or township.
| No. | County | Town | Provider Name |
| --- | --- | --- | --- |
| 1 | Kiambu | Kiambu | AIC Kijabe Hospital - Main |
| 2 | Kiambu | Ruiru | Arise Hospital - Ruiru |
| 3 | Kiambu | Other | Naidu Hospital |
| 4 | Kiambu | Ruiru | Plainsview Nursing Home |
| 5 | Kiambu | Other | St. Matia Mulumba Mission Hospital |
| 6 | Kiambu | Ruiru | The Lifeline Group Of Hospitals - Kahawa West Branch |
| 7 | Kiambu | Other | Thika Nursing Home Limited - Section 9 |
| 8 | Kiambu | Other | Vineyard Hospital Thika |
| 9 | Kiambu | Juja | Kalimoni Mission Hospital - Juja |
| 10 | Kiambu | Kiambu | St. Mary's Mother And Child Hospital |
| 11 | Kiambu | Ruiru | Kalimoni Mission Hospital - Ruiru |
| 12 | Kiambu | Thika | Avenue Healthcare Thika |
| 13 | Kiambu | Ruiru | Medilife Hospital Limited- Ruiru |
| 14 | Kiambu | Ruiru | Focus Medical Maternity And Rehab Centre |
| 15 | Kiambu | Kiambu | Radiant Group Of Hospitals - Kiambu Hospital |
| 16 | Kiambu | Ruiru | Tender Touch Rehabilitation - Kahawa Wendani |
| 17 | Kiambu | Limuru | Limuru Nursing Home |
| 18 | Kiambu | Kikuyu | PCEA Kikuyu Hospital |
| 19 | Kiambu | Kikuyu | Afrihospital Holdings Limited- Lifecare Hospital Kikuyu |
| 20 | Kiambu | Kikuyu | PCEA Kikuyu Hospital - Eye Unit |
| 21 | Kiambu | Kikuyu | PCEA Kikuyu Hospital - Orthopedic Unit |
| 22 | Kirinyaga | Kirinyaga West. | Kagio Nursing Home |
| 23 | Kirinyaga | Kirinyaga Central | Karatina Nursing Home - Kerugoya |
| 24 | Laikipia | Laikipia East | Mother Angela Huruma Hospital |
| 25 | Laikipia | Laikipia East | Nanyuki Cottage Hospital |
| 26 | Laikipia | Nyahururu | Pope Benedict XVI Dispensary |
| 27 | Laikipia | Nyahururu | Charity Medical Hospital |
| 28 | Laikipia | Nyahururu | Goodhope Nursing Home -Nyahururu |
| 29 | Laikipia | Laikipia East | Nanyuki Teaching And Referral Hospital |
| 30 | Laikipia | Nyahururu | Nyahururu Private Hospital |
| 31 | Laikipia | Nyahururu | Oljabet Town Clinic |
| 32 | Muranga | Murang'a South | Kenol Hospital |
| 33 | Muranga | Murang'a South | Family Heritage Hospital Ltd-Main |
| 34 | Muranga | Mathioya | Kiria-Ini Mission Hospital |
| 35 | Muranga | Mathioya | Kiriaini Consolata Hospital(Kiriaini Mission Hospital) -Muranga |
| 36 | Muranga | Kigumo | Modern Aberdare View Hospital |
| 37 | Nairobi | Kasarani | Jacaranda Maternity Kahawa West |
| 38 | Nairobi | Kasarani | Kasarani Maternity & Nursing Home |
| 39 | Nairobi | Mathare | Mundika Maternity And Nursing Home |
| 40 | Nairobi | Kasarani | Nimoli Medical Services -Kasarani |
| 41 | Nairobi | Kasarani | Prudent Cottage Hospital |
| 42 | Nairobi | Kasarani | Prudent Medical Centre And Maternity Home |
| 43 | Nairobi | Kasarani | Jacaranda Maternity Kahawa West |
| 44 | Nairobi | Kasarani | Ruaraka Uhai Neema Hospital |
| 45 | Nairobi | Kasarani | St. Francis Community Hospital Kasarani |
| 46 | Nairobi | Kasarani | St. Johns Hospital Ltd |
| 47 | Nairobi | Mathare | Jumuia Hospital - Huruma |
| 48 | Nairobi | Kasarani | Megalife Hospital-Ruai |
| 49 | Nairobi | Roysambu | Kenyatta University Teaching, Referral And Research Hospital |
| 50 | Nakuru | Naivasha | Flamingo Medical Center |
| 51 | Nakuru | Naivasha | Aic Kijabe Hospital - Naivasha Medical Centre |
| 52 | Nakuru | Naivasha | Mt Longonot Medical Services Ltd |
| 53 | Nakuru | Naivasha | Nairobi Womens Hospital - Naivasha |
| 54 | Nakuru | Gilgil | St. Mary's Mission Hospital - Elmentaita (Rift Valley) |
| 55 | Nyandarua | Kinangop | North Kinangop Catholic Hospital |
| 56 | Nyandarua | Kinangop | Ol Jabet Medical Hospital |
| 57 | Nyandarua | Ol Kalou | The Pine Hospital Limited |
| 58 | Nyeri | Mukurwe-ini | Avenue Diagnostics |
| 59 | Nyeri | Mukurwe-ini | Virgin Hospital |
| 60 | Nyeri | Nyeri central | Outspan Hospital - Main |
| 61 | Nyeri | Mukurwe-ini | Avenue Medical And Diagnostic Clinic |
| 62 | Nyeri | Mathira East | Jamii Hospital |
| 63 | Nyeri | Mathira East | Karatina Nursing Home - Karatina |
| 64 | Nyeri | Kieni West | Mary Immaculate Hospital - Mweiga |
| 65 | Nyeri | Nyeri South | Mathingira Medical Clinic |
| 66 | Nyeri | Mathira East | PCEATumutumu Missions Hospital |
| 67 | Nyeri | Other | The Outspan Hospital Diagonistic Center -Nyeri |
| 68 | Nyeri | Mathira East | St Patrick Nursing Home - Nyeri |
| 69 | Nyeri | Other | Pcea Mahiga Medical And Maternity Home |
| 70 | Nyeri | Othaya | Mathingira Hospital -Othaya |
| 71 | Nyeri | Other | Avenue Medical And Diagnostics Centre - Othaya |
| 72 | Nyeri | Kieni West | Muruguru Maternity And Nursing Home |